Free Online Language Exchange
15 junio, 2022 @ 6:00 pm

-

9:00 pm

|

Evento recurrente

(Ver todos)

Un evento que tiene lugar cada 1 semana/s, comienza a la hora 6:00 pm los miércoles, jueves y viernes, y se repite de forma indefinida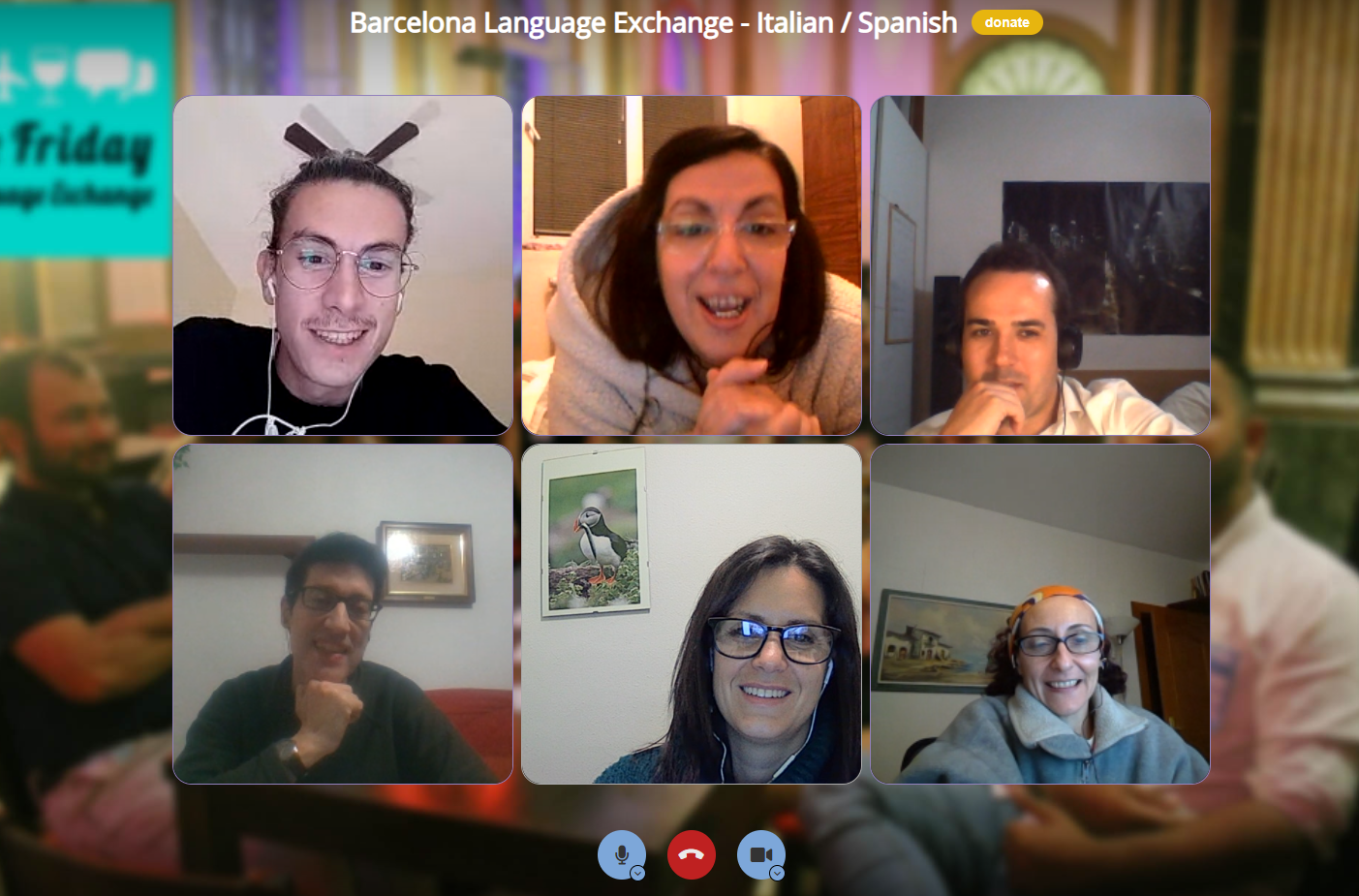 We have opened our Online Bar!
Practice languages, make new friends and have fun with us every week, now also online!
There will be diferent tables by languages and you'll be free to change table as much as you wish.
The Online Bar will be always open, but we recomend to join the setted gatherings if you want to make sure to meet with other people
The online gatherings are on Wednesdays, Thursdays and Friday from 6pm to 9pm.
As always you can come and leave whenever you like.

Want to join our Whatsapp group? Send me a private message with your number!

* * *
¡Hemos abierto nuestro Bar Online!
Practica idiomas, haz nuevos amigos y diviértete con nosotros cada semana, ¡ahora también online!
Habrá diferentes mesas por idiomas y podrás cambiar de mesa cuanto quieras.
El Bar Online estará siempre abierto, pero recomendamos unirse a los eventos organizados si quieres asegurarte de encontrarte con otras personas
Los encuentros online son los miércoles, jueves y viernes de 18h a 21h.
Como siempre, puedes llegar e irte cuando quieras.

¿Quieres unirte al grupo de Whatsapp? Manda un mensaje con tu número!
Detalles
Fecha:

15 junio, 2022

Hora:

Etiquetas del Evento:

aleman, all ages, aprender, bar, barcelona, barcelona language exchange, bcn, catala, catalan, chinese, chino, club, conversacion, conversation, cultura, culture, deutsch, diversion, encuentros, english, erasmus, español, estudiantes, event, evento, expats, extranjeros, for free, français, frances, free, french, friends, fun, gathering, gatherings, german, gratis, idiomas, ingles, intercambio de idiomas, internacional, international, italian, italiano, japanese, japones, language exchange, languages, learn, learning, meeting online, meeting people, meetup, natives, nativos, online, polaco, polski, portugues, portuguese, practicar, practice, ruso, russian, semanales, social, social life, spanish, students, sueco, svenska, swedish, the friday language exchange, todas las edades, today, travel, traveling, viajar, vida social, wanderlust, weekly

Web:
Eventos Relacionados
junio 25 @ 7:00 pm

-

11:00 pm

|

Evento recurrente

(Ver todos)

Un evento que tiene lugar cada 1 semana/s, comienza a la hora 7:00 pm los viernes, y se repite de forma indefinida

junio 27 @ 9:45 am

-

12:00 pm

|

Evento recurrente

(Ver todos)

Un evento que tiene lugar cada 2 semana/s, comienza a la hora 9:45 am los domingo, y se repite hasta el 26 septiembre, 2021

junio 27 @ 11:45 am

-

2:00 pm