BLE Pizza Night
5 abril, 2025 @ 8:00 pm

-

11:00 pm

|

Evento recurrente

(Ver todos)

Un evento que tiene lugar cada 1 semana/s, comienza a la hora 8:00 pm los sábado, y se repite de forma indefinida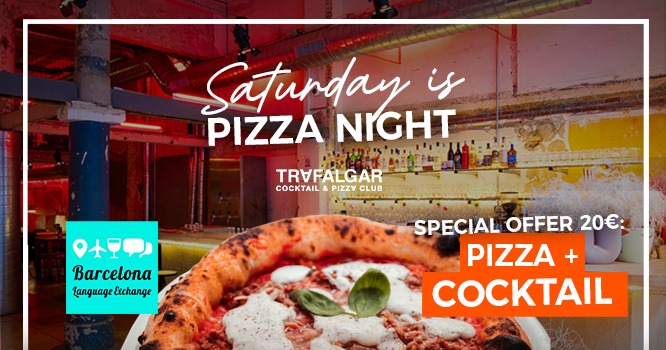 Join us on Saturday for Barcelona Language Exchange Pizza Night!
(Español abajo)
Confirm your attendance at the Saturday Pizza Night through Meetup! 
Join us for Barcelona Language Exchange Pizza Night every Saturday at 8pm in the city center of Barcelona to exchange any language, to make friends and to eat pizza.
This event will be held at Trafalgar, a pizza and cocktail club that makes quality homemade pizzas and cocktails.
This unique spot is a cocktail bar, pizza restaurant and club all in one, what more could you ask for! We look forward to meeting you there.
BLE is a group of enthusiastic individuals looking to improve our fluency in our second languages while meeting new friends in Barcelona. We exchange all languages at various levels!
We meet on Saturdays at 8 pm, at 19 Trafalgar street.
You will be greeted by a Barcelona Language Exchange host at the entrance and given a sticker to display your name, native language, and the second language you are looking to practice. Please note that it is also okay if you only want to speak your native language.
This is a FREE event, although there's a minimum drink you'll have to have (€4), since the restaurant/bar lend us their space.
BLE's special offer allows you can get any pizza + cocktail for only €20. To receive BLE's offer display your sticker where the bar tender can see it!
This event is open to everyone, so you are all welcome to join us!! (Only adults).
We will ask you before taking photos, by agreeing to be on the photo you allow us to post it on the social media.
Like our Facebook page and subscribe to our events.
Join our Facebook group.
Follow us on Instagram.
Want to join the Whatsapp group? Email us your number to info@speakquick.es . You can also contact us here.
¡Únete a nosotros para la Pizza Night de Barcelona Language Exchange!
Confirma tu asistencia a través de Meetup! 
Únete a nosotros para la Barcelona Language Exchange Pizza Night todos los sábados a las 20h en el centro de la ciudad para intercambiar cualquier idioma, hacer amigos y comer pizza.
Este evento tiene lugar en Trafalgar cocktail and pizza club, que elabora pizzas y cócteles caseros de calidad.
Este lugar único es un bar de cócteles, una pizzería y un club, todo en uno, ¿qué más se puede pedir? Esperamos verte allí.
Somos un grupo de personas entusiastas que buscamos mejorar nuestra fluidez en nuestros segundos idiomas mientras hacemos nuevos amigos en Barcelona. ¡Intercambiamos todos los idiomas en varios niveles!
Nos reunimos los sábados a las 20 h, en la calle Trafalgar, 19.
Un anfitrión de Barcelona Language Exchange te recibirá en la entrada y te entregará una pegatina con tu nombre, idioma nativo y el idioma que deseas practicar. Ten en cuenta que está bien si solo deseas hablar tu idioma nativo.
Este es un evento GRATUITO, hay una bebida mínima que tendrás que tomar (4€), ya que nos prestan su espacio.
Tenemos una oferta especial para BLE que te permite conseguir cualquier pizza + cóctel por solo 20€. ¡Para tener la oferta de BLE, ponte la pegatina donde el barman pueda verla!
Este evento está abierto a todos, ¡así que todos son bienvenidos a unirse a nosotros! (Solo adultos).
Te preguntaremos antes de tomar fotos, al aceptar estar en la foto nos permites publicarla en las redes sociales.
Da 'me gusta' a nuestra página de Facebook.
Únete a nuestro grupo de Facebook.
Síguenos en Instagram.
¿Quieres unirte al grupo de Whatsapp group? Mándanos tu número a info@speakquick.es . También puedes contactarnos aquí.
Detalles
Fecha:

5 abril, 2025

Hora:

Etiquetas del Evento:

aleman, all ages, aprender, barcelona, barcelona language exchange, bcn, bebidas, catala, catalan, center, centro, chinese, chino, city center, club, cocktails, cocteles, cultura, culture, delicioso, delicious, descuento, deutsch, discount, diversion, drinks, english, erasmus, español, estudiantes, evening, event, evento, expats, extranjeros, flavours, français, frances, french, friends, fun, gathering, german, happy hour, hora feliz, idiomas, ingles, intercambio de idiomas, internacional, international, italian, italiano, japanese, japones, language exchange, languages, learn, learning, meeting people, meetup, natives, nativos, night, noche, oferta, offer, only adults, pizza, polaco, polski, portugues, portuguese, practicar, practice, restaurant, restaurante, rico, ruso, russian, sabado, sabores, saturday, social, social life, solo adultos, spanish, students, sueco, svenska, swedish, tardeo, todas las edades, today, trafalgar, travel, traveling, urquinaona, viajar, vida social, wanderlust

Web:
Organizador
Correo electrónico:

info@speakquick.es

Web:
Local
calle Trafalgar 19




Barcelona

,

Barcelona

08010

España

+ Google Map
Eventos Relacionados
agosto 23 @ 7:00 pm

-

10:00 pm

|

Evento recurrente

(Ver todos)

Un evento que tiene lugar cada 1 semana/s, comienza a la hora 7:00 pm los miércoles, y se repite de forma indefinida

agosto 24 @ 7:00 pm

-

10:00 pm

|

Evento recurrente

(Ver todos)

Un evento que tiene lugar cada 1 semana/s, comienza a la hora 7:00 pm los jueves, y se repite de forma indefinida

agosto 25 @ 8:00 pm

-

11:45 pm

|

Evento recurrente

(Ver todos)

Un evento que tiene lugar cada 1 semana/s, comienza a la hora 8:00 pm los viernes, y se repite de forma indefinida